Trainers
How easy is the Trainer to assemble?
The Vasa Trainer requires very little assembly, as most of the difficult parts are already put together when it arrives to you. Clearly illustrated instructions and all necessary tools are included with every machine. Allow about an hour to complete the assembly.  View Trainer assembly video.
If you need help, please call Vasa's customer service and technical support at 1.802.872.7101 M-F, 9am-5pm EST.
How much space does the Trainer take up?
We recommend a usage space of 10' long by 4' wide, as this will allow you to achieve the full range of motion in every direction to use the machine successfully.
The Trainer itself is 7' 7" long x 24" wide. Visit the product page for full specifications.
How do I store the Trainer on the days it's not in use?
The front of the Vasa Trainer can be folded up easily. Once folded, you can roll the Vasa Trainer around on the wheel located at the rear for storage or transport. Read the Trainer Owner's Manual for full details on how to fold up your Vasa Trainer, as well as suggestions for convenient storage.
What is included with the Trainer?
Each Vasa Trainer model comes complete with everything you'll need to do most of the exercises available. This includes the frame, stanchions, strap bar, monorail, seat carriage, padded bench, Webbing Straps, Pulley Cable System, a Stretch Cord, a pair of Exercise Handles, a pair of Swim Paddles and a comprehensive training manual. See our product page for the full details. We also offer several accessories that will widen your options and enhance your machine. These include the Leg Power Platform, Forearm Cuffs/wide Ankle Straps, Power Cords and XL Bench Upgrade.
How much maintenance is required?
Under normal use in dry indoor environments, minimal maintenance is required. Occasional cleaning of the monorail and seat rollers will keep your Vasa Trainer in perfect working order. With heavy use by teams or clubs, or use in corrosive environments such as humid chlorine-rich pool decks or outside in ocean air, regular cleaning and periodic replacement of high-wear moving parts may be necessary. These parts are serviced and/or provided directly from Vasa and are not expensive or difficult to replace.
Note to Swim Teams:  For best results to maximize the life of the Vasa Trainer and minimize corrosion, do not store in high-humidity & chlorine-rich pool deck areas. Avoid direct contact with pool water. Place the Trainer on a rubber mat or carpet if possible.
Vasa Trainer or Vasa Swim Erg: Which model is best for me?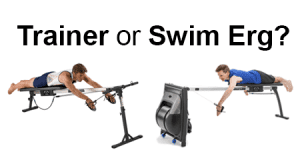 The Vasa Swim Ergometer and the Vasa Trainer both help you become a stronger, faster, and more powerful swimmer. You will accomplish more in less time, thanks to the high quality training they provide. If you want to see a side-by-side comparison of how each ranks by training benefit, review our Model Comparison Chart.
Is the Trainer safe for people of all ages / abilities?
The Vasa Trainer is simple to use, sturdy in construction and completely safe for use by people of all ages and abilities. Since you use the Trainer by raising a percentage of your body weight against gravity, using natural movements, it is easy to determine a safe operating resistance. If your children safely play on a jungle gym or other playground equipment, then they'll safely enjoy the Vasa Trainer. Research shows that resistance training for children, under adult supervision, is both safe and beneficial. Plus, the entire family will benefit from the variety of training opportunities it provides, no matter what the sport or fitness goal.
Other than swim training, what exercises can I do on the Trainer?
There are over 200 functional exercises for the abdominals, arms, back, chest, shoulders and legs. These include ab crunches, bicep curls, tricep extensions, dips, pull-ups, lat pull-downs, chest presses, lunges, squats, leg curls, leg extensions and leg plyometrics. Visit the Training Resources pages for a full listing of exercises specific to your sport, goals, and more. Each exercise can be performed at a resistance setting that is appropriate for your specific need, be that strength, power, speed, endurance, rehabilitation or flexibility.
Can I train for all four swimming strokes on the Trainer?
The Vasa Trainer is best suited for training Freestyle, Butterfly and Breast Stroke. In Backstroke, we recommend doing only the finish segment of this stroke. Training for Freestyle, Butterfly and Breast Stroke can be executed in one of several ways. First, you can gain swim-specific strength in each stroke by pulling your body along the inclined monorail and then returning to the start position. Second, you can do isometric exercises by holding a steady position, one segment of the stroke, such as mid-stroke for Butterfly or Freestyle. Third, you can do continuous Freestyle, Butterfly, Breast Stroke or Freestyle Recovery Stroke using the Pulley Cable Attachment. Additionally, you can practice starts and turns by performing leg push-off plyometrics using the Leg Power Platform. This exercise develops explosive leg power.
Visit our Training Resources pages for more instruction in print & video.
Can I accomplish hip roll / body rotation on the Trainer?
Accomplishing the hip roll and body rotation on any swim bench is not realistic and cannot be simulated perfectly. The primary reason is because the axis of rotation while swimming in water is a straight line, head to toe, through the center of your body. On a swim bench, the axis of rotation is about four inches below the stomach, which requires the swimmer to roll over, rather than with, the axis of rotation. In water, the body is buoyant, which allows the swimmer to catch the water at full arm extension and initiate the arm pull with a hip rotation by driving the opposite hip toward the bottom of the pool while pulling with the opposite arm. The hip rotation engages the core abdominal muscles and transfers that energy into the pulling arm. To a small degree, swimmers can condition the core muscles used in hip rotation while training on a swim bench. The padded benches on Vasa Trainer (and Vasa Ergometer) are designed to allow the swimmer to activate and strengthen the core muscles used in hip rotation while performing Freestyle exercises. This is accomplished by simultaneously driving the left hip into the padded bench just at the catch of the right arm, and vice versa. If the swimmer uses proper stroke technique, then hip rotation on the bench will activate the correct muscles of the core torso and will provide better conditioning. The difference between swimming Freestyle on the bench with and without hip rotation is quite noticeable. Swimmers can find slight destabilization and greater activation of core muscles by swimming Freestyle while laying on a long Aeromat pad, a rolled up towel, or a foam half-round placed on top of the Vasa padded bench.
Visit our Training Resources pages for video instruction.
Can I substitute Trainer workouts for pool workouts?
Absolutely. It's easy to simulate typical pool workouts using the Vasa Trainer. Many swimmers and coaches use the Freestyle exercise to duplicate timed sets or long aerobic workouts. The Vasa Trainer allows you to do swim-specific aerobic or strength sessions effectively, on your own schedule, in the comfort of your own home. Many swim coaches use a Vasa Trainer to keep injured swimmers part of practice, even when they cannot go in the water. Coaches also create dry-land strength training workouts using multiple Vasa Trainers.